It's the most wonderful time of the year! It's a time where friends and family get together, exchange gifts and smiles, and write meaningful Christmas cards to one another. 
When faced with a blank card, it can be daunting to start writing, but it doesn't have to be! Here are a few ideas to help you write your Christmas greeting card! 
Ideas of What to Write in a Christmas Card
Whether you'd like to write a short & sweet message, or a long thought out message, either will make an impact to the person you're writing to. Just the thought alone that you put into selecting the card and taking the time to send it off will make them smile. Everything you write inside your Christmas card is the icing on top! Here are a few prompts to get you writing:
Thinking of You. The very reason you're writing this card. Remind them why you're sending the card in the first place.
Warm Wishes. Share warm wishes, peace, and love during this merry season.
Send Joy. Think of a time with the person you're writing to that made you feel joy, reminisce on it in your card to them.
Christmas List. One of the nicest things you can say in a Christmas card, is that you hope they get everything they asked for on their Christmas list.
Leverage the card design. All of Hennel Paper Co.'s holiday greeting cards have a fun and playful design on the front. You can use the design as inspiration for what you'd like to say on the inside.
No matter what you write in your holiday card, you're sure to make someone's day. Sending a thoughtful message in the mail to surprise someone in their mailbox would brighten anyone's day, and what you write in there can be saved for a lifetime. 
MEET JAYME!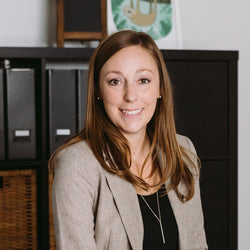 Hi, I'm Jayme Hennel! I own Hennel Paper Co., a hand illustrated paper goods, gifts and design studio focused on creating cheery & cheeky products that are assured to brighten your day.