Often we find ourselves last minute sending texts to those we love the most, reminding them we are thankful of them. And while the sentiment is nice, nothing beats receiving a greeting card in the mail addressed to you. 
Thanksgiving Greetings
After the last few years, we have a lot to be thankful for. Reminding loved ones that we're thinking of them is one of the best ways to share thanks! If you're having trouble writing your Thanksgiving message, here's some prompts to get you started! 
Ideas of What to Write in Your Thanksgiving Card
A blank card can seem daunting, but it gives you as room as you need to write a meaningful message. Whether you'd like to write a short & sweet message, or use both sides of the card, a blank card gives you options! Here are a few prompts to use to help write your Thanksgiving card:
What are you thankful for? Share with your loved one why you're thankful for them!
Make them laugh! Share a funny pun about the holiday like... "I'm Thank-FULL this Thanksgiving"
Be in the moment. Whether you just got together or haven't seen each other in a long time, talk about it and how you hope to make plans soon! 
Whatever you end up writing, make sure you lean into positivity! It's no secret that these last few years have been hard on everyone. Sending a thoughtful message in the mail for someone to open up will be sure to light up someone's day! What you write in there can be saved for a lifetime!
MEET JAYME!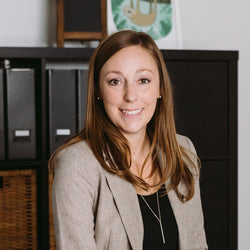 Hi, I'm Jayme Hennel! I own Hennel Paper Co., a hand illustrated paper goods, gifts and design studio focused on creating cheery & cheeky products that are assured to brighten your day.